Singer, songwriter, producer Maryellen McCabe creates mythic, melodic, acoustic art rock that speaks of universal love, spiritual awareness, service to others and social responsibility. Her music and producing work has earned her grants from GTE, The Alton Jones Foundation, Connamara Foundation, The Francis Dewing Foundation and Inmark Computer Corporation. As a student she received the University of Texas Outstanding Performer Award presented by Gerald Freedman of the Joseph Papp Shakespeare Public Theatre.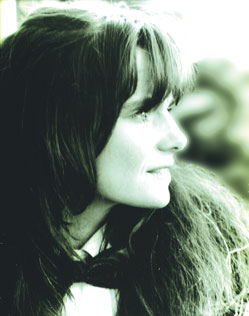 Over the past several years Ms. McCabe has brought to New York City metropolitan area colleges, high schools, conferences, environmental events and spiritual centers two multi-media shows called Destiny of America and Heroes and Heroines. These programs feature original songs written and performed by Ms. McCabe and her band Phoenix Rising against a background of slides, monologues and sign-language dance depicting the achievements of great men and women who have devoted their lives to serving the common good. Commenting on her program, former Governor Cuomo stated: "Heroes and Heroines is helping to promote a better understanding of integrity, courage and service. I salute Maryellen McCabe for her creativity and vision."
In addition to creating the Heroes and Heroines program, Ms. McCabe has performed her songs in New York City clubs for over a decade, including the 1998 49th Anniversary for the Declaration of Human Rights at the Hard Rock Cafe. Her music video Mother Teresa has been featured on VH1's New Vision Show. The Gannett Newspapers have described her work as "great rock music with a great message." Jon Kalish of National Public Radio commented: "Maryellen McCabe's songwriting is unique, important and exceptional." Bob Fass of WBAI has said: "Maryellen McCabe is a rare treat." Rei Uyeyama of Canadian Broadcasting Company has reported: "Maryellen McCabe is a visionary renaissance woman whose multi-faceted talents are inspiring." Patti Rose, contributing journalist to Rockbill and Musician Magazine, has called McCabe's triple octave voice "intense, inspired and powerful." The musicians featured in her work are all accomplished studio players whose album and appearance credits include Joan Osborne, Bob Dylan, Indigo Girls, The Chieftains, Psychedelic Furs, Judy Collins, Gary Moore, Paul Winter, Tracy Chapman, Joe Cocker, WHAM, John McLaughlin, Carlos Santana and Bill Frizell to name but a few.
In addition to her creative artistic talents, Ms. McCabe has created and produced the programs for such major conferences as: The Sacred in the Arts, Cathedral of St. John The Divine; the highly acclaimed concert featuring Kitaro, The Loseling Tibetan Monks and Voices of Tuva as a benefit for the International Campaign for Tibet; Awakening the Soul Music and Healing Conference, OMEGA Institute; Women of Vision Leadership Conference and she is currently working on a video series based on her Heroes and Heroines: Destiny of America musical, with Time Line Video Production.
Visit Other Resumes of Maryellen McCabe to learn about her activities as an event producer and other professional activities.